"The Curious Incident of the Dog in the Night-time" is the stage adaptation of the book of the same title, written by Mark Haddon. The play received 7 Olivier Awards and won the TONY Award for Best Play in 2015. The play begins its national tour around the U.S. beginning on September 27th.
I saw this play in 2014 in the West End in London. I was wandering around the Leicester Square / Covent Garden area with nothing to do and no place in particular to go when I looked up to see the glowing lights of the marquis sign at the Gielgud Theatre. I remembered reading "Curious Incident" in high school and I absolutely loved it — the quirkiness of the book's layout, writing style and drawings throughout made it such an engaging read that exposed me to the day-to-day lifestyle of a person with autism.
The story follows a brilliant young man named Christopher Boone (think Sheldon Cooper) on his quest to find out who killed his neighbor's dog with a pitchfork, which takes him through the lives of his fellow neighbors and family members, and eventually to a self-guided trip to London in search of the answer. The title of the book/play is actually taken from a Sherlock Holmes quote.
With 5 minutes to spare before the start of the show, I bought a £25 ticket and entered the theatre. The seats were elevated and focused on a stage that was lit in bright lines intersecting one another horizontally and vertically at right angles. The stage was a giant grid! No matter how much I think I've already seen, I continue to be surprised by stories and stagecraft, and this play was no different.
Here are the reasons why you must see "Curious Incident" on stage:
1. It follows the book perfectly
Book lovers: how lucky are we when a movie gets the book right? How about a Broadway play? If you've ever read the book, you'll know that the writing style is unique for several reasons, such as having the chapters numbered only by prime numbers. You'll find that same uniqueness onstage. When I saw the production in London, the prime numbers of the theatre seats each had a prize on them that you could turn in after the show!
2. The stagecraft will blow you away
The entire stage is set up like a grid, but really, we're looking at Christopher Boone's mind palace, the place where he stores all his information and gathers it as needed throughout the story. The lighting, colors, sound and other visual effects make this production as memorable as it is. For example, in a series of scenes, Christopher builds a train set while talking to other characters and while other characters are having conversations about him. When he finally finishes the train set and sets the train off, it is so satisfying and beautiful to watch. Our minds are a mess of structured chaos, and the creators of this set found a brilliant way to bring that to life.
3. It raises awareness of autism
Many of us may know what autism is, but we may not understand what it looks like day to day. Christopher has a difficult time connecting with other people, and simple tasks — like taking a train into a city — are other-worldly adventures that require enormous amounts of effort on behalf of the individual. This entire play is told from inside Christopher's mind — with other characters popping in and out as the story needs them to — so you can see exactly how beautiful — and how terrifying — life can be from a mind affected by autism. It helps us to be more understanding of people who may be different from us.
4. It allows you to see the world from someone else's perspective
As I said in the description of the stagecraft, you are seeing the inside of another human being's mind and how another person sees and thinks about the world. It's not every day we get that gift if not through a book, which makes this experience so unique and valuable. You'll feel a strange connection with Christopher even after you leave the theatre.
5. You'll be in love and crying at the end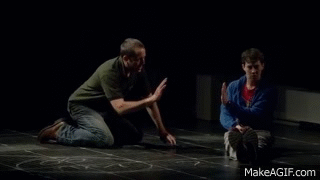 I don't want to spoil the ending, but I'll just tell you I was a sobbing mess. Christopher's journey not only makes for some satisfying character development, but the reward he gets at the end of his journey will have you in tears.
"Curious Incident" is traveling around the U.S. starting Sept. 27th! Click here to see when it will come to your area and check out the show trailer below.